4 Reasons Why Steel is a Great Fencing Material
Steel is one of the most versatile materials on the planet. It can be used in buildings as supports, as rail tracks that carry exceptionally heavy trains and even to make architectural features. The list goes on. So if you're looking for the most effective material for keeping people off your property then steel is likely the best choice for you!
If you have been considering steel as your fencing material, then this article might help you to make up your mind whether steel is the right choice for your project.
It is built to last
Let's start with the obvious one first. Steel is built to last. If it's good enough to use as structural support in a building, its good enough for your property fence.
Unlike other popular materials such as  timber, steel isn't susceptible to termites, weather or fire. In short, it is a tough material that will last – withstanding both the test of the elements and of concerted efforts to break through its barrier. 30 years on, your fence will still look the same and be as strong as ever.
It looks good… very good!
When you say the word steel, some people might think of round steel bars similar to a prison window. While you can definitely go for this option if you wish, with the right skilled tradesman looking after your project, steel can be moulded into a limitless variety of designs. Similarly, with our powdercoating system you can have your steel fencing in a variety of colours too!
One of the biggest benefits is the unlimited design options that are available with steel. You can customise a fence to suit any environment and any requirement. Height, colour, straight or curved it can all be done with steel.You can add lattices, tips, posts caps and bar designs.
Adding steel gates can offer a unique feature to your home's façade, allowing you to stand out from the run of the mill houses on your street.
Security
If you are building a fence for your property then security is important – particularly for commercial fencing around parks, schools or shops to keep vandals at bay.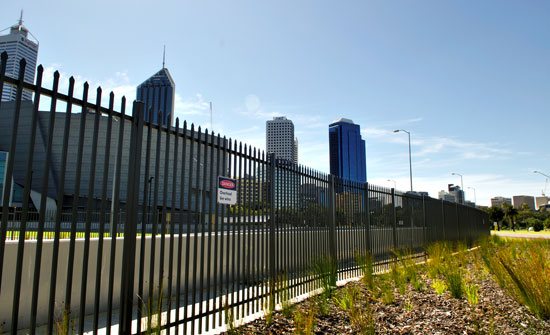 But regardless of whether the property is residential, commercial or industrial, you want to make sure that it is secure and people can't easily break through the fence or climb over it. Steel is the best option for security. It is very difficult to break through or cut through steel. Our guardian steel fencing even includes a pointed finish up top, making it more difficult to climb over.
Steel is easy to maintain
The good thing about a steel design is that once it has been treated right in the manufacturing stage, it will not require much, if any, upkeep or maintenance once it has been installed. The Australian pre-galvanised steel tubes and posts that we use, as well as the stainless steel welds and screws, are treated to be rust resistant, so there is no fear that they will need to be repaired a few years down the track. However, look out for other fencing contractors using mild steel welds as these are more prone to rust.
When looking at the above benefits, steel is definitely one of the best materials for a fence. It is hard wearing, versatile and requires minimal maintenance. We've also taken a look at what makes aluminium a good fencing material so you can compare.
If you have any further questions about what material is right for your fence or gate, our friendly sales staff are always happy to help – get in touch today!