Which are the Best Gates for Apartments and Unit Complexes?
Increasing urbanization and rising property prices have created a demand for high-density living in Australia. At the same time, many Australians have embraced apartment living and an urban lifestyle. Safety is of utmost priority for residents, so security is a key consideration for unit and apartment developers and builders. This is especially important for aged care and disability housing complexes.
And security gates provide a cost-effective way to achieve this.
In high-density living, there are high volumes of traffic accessing the property. By installing security gates, you allow the free flow of traffic, while at the same time protecting residents and their possessions.
At Fencemakers, we have extensive experience in developing security gate systems for high-density residential complexes. Here we draw on our expertise to discuss the various gate options for apartment buildings and unit complexes.
Types of Gates for Units, Townhouses and Apartment Complexes
We can design, build and install any type of gate. Our gates are all custom-made, which means we can create the perfect solution for your site. Depending on the size and layout of your unit complex or apartment building, a sliding, swing or pedestrian gate may be the best option for you.
Sliding Gates
Sliding gates are made as one, singular section and open by sliding along a track bolted to or concreted into the ground. A sliding gate is a good option for apartments, unit or townhouse complexes, as they can easily be automated.
It is important to remember that you will need ample room for the gate to retract when it is opened. Sliding gates are very safe and do not require a deep driveway, as is the case with swing gates. At Perth Fencemakers, we custom build all gates to meet your specifications.
Swing Gates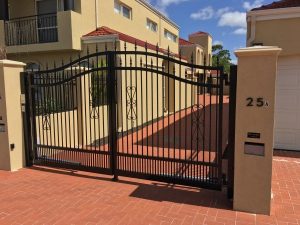 Swinging gates are another great option for apartments and unit complexes. This style normally consists of two half-sized gates (i.e. double swing gates) that open and close via a swinging mechanism.
The benefit of swing gates is that you don't need as much room at the front of your block, compared to sliding gates. You will however need a wider driveway to ensure the gates can freely swing to a 90-degree angle to allow the easy passage for vehicle. You will also need to ensure swing gates do not swing open onto a foot path or other high traffic area which could result in an injury and/or damage to the gate.
Swing gates are generally cheaper than sliding gates.
Pedestrian Gates
Pedestrian gates are a fantastic addition to any apartment or unit complex. They provide an easy mechanism to stop unwanted from people entering restricted areas or the complex as a whole. While sliding gates and swing gates allow for the free flow of authorised vehicles, pedestrian gates allow easy access for residents on foot. Pedestrian gates can be built with security keypads, swipe cards or linked to intercoms systems to ensure only residents and their guests have access.
Why Choose Fencemakers for Your Security Gate Systems
At Fencemakers, we can provide the ideal security gate system for your needs. We have installed all manner of automatic gates for apartment complexes, units, and townhouses across Perth and Western Australia.
We understand the needs of people who live in units and can design a gate that meets the requirements of your complex or strata. For builders and developers, we can design a system that will work in with your budget. We can supply and install gate automation, including intercoms, swipe cards, electronic key pads etc. We are happy to assist in designing specification in the tendering process, can liaise with landscape architects during the design process, and work alongside builders and contractors to ensure our gates are installed on schedule.
If you would like more information on gates for high density residential sites, please do not hesitate to contact our friendly team today. We are more than happy to come to site, discuss various gates options and provide you with a free, no-obligation quote.