Everything You Need to Know About Solar Gates
Electronic automated gates can be a great addition to your home or business. Not only do they add sophistication and value to your property, but they offer a number of conveniences when compared to manual gates.
Some sites make it difficult or costly to run power to the location of an automatic gate. In these situations, we suggest you consider using a solar gate which can be automated without the need of running mains power to the location of the gate.
At Perth Fencemakers we not only specialise in manufacturing made to order gates, we can also assist with all types of automation, including solar powered gate automation.
Solar Powered Gates are Environmentally Friendly
For the environmentally conscious, the extra carbon footprint resulting from installing an electronic gate may be a deterrent in opting for one. The solution is solar powered gates. These days, many things can be powered by a few hours of sunlight and an electronic gate is no different. There is already a wide range of solar powered gates available in the market. These gates are powered by batteries that charge from small solar panels mounted on or near a gate.
Why Solar Power?
All around the world, people, businesses and governments are searching for better ways of harnessing renewable sources of power. At Fencemakers, we are committed to doing our part in this effort. Installing solar powered gates as opposed to conventional automation can be your way of making a positive contribution to this world-wide effort.
Secondly, solar power is a mature technology which has a proven track record. There is no need to worry about the technology being inappropriate, or failing causing a hazard to your property's security. In the past 5 years, solar panel technology, as well as battery technology, has seen significant advancements. This means solar is now a cost-effective option for a standalone power option for mechanical operations – i.e. using solar power to operate an automatic driveway gate.
Where to Find Solar Powered Gates?
Solar power kits that meet the energy requirement of gate automation are already available and have been around for a considerable time. At Fencemakers, all our gates are made to order which
means they can be manufactured and installed to suit automation.
Obviously, gate automation requires power. This can often be expensive and inconvenient if the area is already landscaped with grass, paving, artificial turf and / or poured aggregate. In situations like this, solar powered gate automation can be a great option from both a cost and a convenience perspective. We use the same gate motor and simply install a solar kit which includes a small solar panel (which can often be attached to a gate post) and battery pack. This solar kit allows the sun's energy to be easily captured and stored.
If your home or business sits on a large property (i.e. rural, semi-rural or lifestyle properties) – the mains power source is likely to be a long distance from the location of an automatic gate. In this situation, a solar gate opener could be the perfect solution. Instead of costly measures to feed mains power all the way down your driveway to the gate, a solar gate opener offers a cost-effective and convenient alternative source of power for your gate.
How Long Will the Battery Last?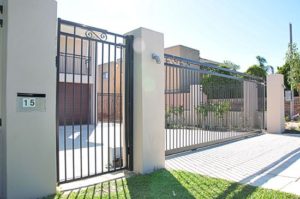 Reliability is often a concern for many property owners. A solar powered gates system is designed and manufactured with a long run time. Australia is a sun-blessed country. Our climatic conditions make it perfect to power any form of solar system, including solar gate automation. In Perth, your solar gate system will get ample sun and there will be no risk of running out of power.
These stand-alone systems are also self-sufficient and designed to require minimal maintenance. At Fencemakers we are so confident in the quality of our solar gates that we offer a 2-year written guarantee that covers all the solar gates we manufacture and install.
A solar powered gate system uses very little energy in its normal operation. In many cases, automatic driveway gates in a residential setting only operate a handful of times a day. Consequently, wear and tear is highly unlikely. At Fencemakers we use a range of automation components which are manufactured either in Australia or in Europe. With the quality motor and components we use, you can rely on the Perth Fencemakers range of automation and solar gate systems to stand the test of time.
The Benefits of a Solar Gate Opener
There are some obvious benefits to solar powered gate openers. Major benefits include:
a reduction in electricity consumption, and costs
easy access to power on long driveways and large properties, or where you have established landscape
By purchasing a solar powered gate opener from Fencemakers, you can reduce your electricity usage. While other gate openers rely on mains power to operate, solar gate openers harness the sun's power. Less electricity usage means lower power bills, and this ultimately means more money in your pocket.  Solar gates also have the added benefit of reducing your electricity consumption. By choosing a solar powered gate opener, you're reducing your carbon footprint and helping reduce emissions. Thus, with solar gate opener you can not only feel safe, but also contribute positively to the environment.
Who Can use a Solar Powered Gate Opener?
Solar gate openers are suitable for all kinds of gate automation, including automating:
Solar gates are also appropriate for all types of properties, including:
Residential properties
Commercial properties
Industrial properties
Rural properties
Are Solar Gate Openers Safe?
Fencemakers' range of solar gate openers are guaranteed to work – they are reliable and secure. We ensure that our solar gate kits include adequate battery storage to ensure you will not run out of electricity on a cloudy day or during the night. A solar gate is an effective way to protect your property, family, pets, and possessions.
We can help design a solar gate solution to meet your individual requirements. You'll love our expert team of professionals who have been servicing the WA gate market for more than 20 years.
At Fencemakers, we only stock the highest quality products, and pride ourselves on our first-rate installations and customer service. We'd be happy to talk to you about your specific requirements and advise you whether a solar powered gate opener is the right choice for you
If you would like more information on solar gates, please do not hesitate to contact us. We are more than happy to come out to site, discuss different options and provide you with a free no obligation quote.