Choosing the Right Gate for Your Yard: The Top Five Considerations
Whether you are concerned with privacy, making your home fit in with the rest of those in your neighbourhood, or you want to enhance your home's curb appeal, there is a lot to consider when choosing the right gate for your yard.
We have put together a list of what we have found to be the top five considerations when choosing a gate and some food for thought in each area.
1. How Will Your Gate Open?
There are three main ways that your gate may open: it can swing inwards towards your property, it can swing outwards towards the street, or it can slide to the right or left behind your boundary wall.
The most important thing to consider before selecting a style is whether your driveway slopes down towards the street, down towards your home or is flat surface, keeping in mind that a swinging gate cannot function if it swings towards an upward slope. Also bear in mind other factors like the length of your driveway and space for cars to park within if going for inward swing gates; pedestrian or motor vehicle traffic on your street when considering outward swing; and the curvature of your boundary wall when considering sliding gates.
2. What Style Gate Will You Choose?
Your residential area may have certain restrictions on additions, including driveway gates, regarding the appearance of the street and the neighbourhood. If you are concerned about these potential restrictions, discuss them with your gate and fencing professional prior to selecting a gate as well as your local council or neighbourhood association if relevant.
Choosing a gate that matches the style of your home improves the aesthetic and adds to your curb appeal, which can significantly increase the value of your home. Do you have a colonial or Hampton style home? A picket fence and gate would be a good fit. Or is your home built in a more modern architectural style? The clean and minimal lines of slat fencing and gates pairs well with that style. Meanwhile tubular steel or aluminium gates with more intricate tops like 'gothic' or 'classique' go well with grand older residences or townhouses.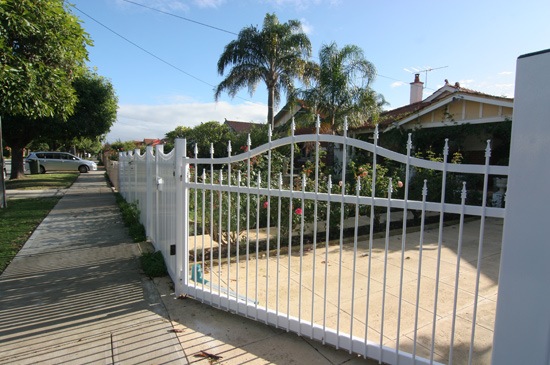 3. What Colour Will Your Gate Be?
The colour of your gate is often one of the first things that passers-by will notice. As well as the style you choose and the material your gate is made of, adding a pop of colour is another way to add curb appeal, flex your design muscles and you're your personality.
The method of powdercoating aluminium and steel fencing also adds an additional layer of durability to your gates, so your investment will last for years!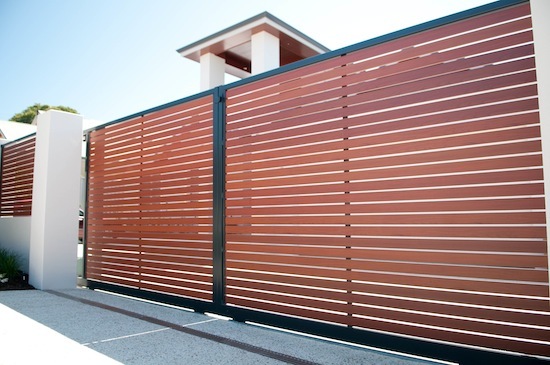 4. How will your gate allow you to access your home?
Depending on the level of security and privacy that you want, you may choose several methods for allowing access to your gate.
Manual Access
Opening your gate by hand is the simplest way to allow access, but can be the most inconvenient, especially when it comes to having guests, being in a rush or dealing with bad weather. Manual access usually means your gate has a padlock with either a code or a key.
Electronic Key, Code, or Swipe Card Access
Slightly more sophisticated, these types of access still require you to hand out your key, share your code, or pass around key cards. However, drive up access can be convenient!
Remote Control Access
Many people use this method to open garage doors, and it can come in handy as you approach your gate in your vehicle, especially if it swings out towards the road. Depending on your remote control, it may also mean that you can allow guests to enter without going out to greet them.
Intercom Access
This is generally the most secure option. Often combined with a security camera, intercom access allows the highest levels of privacy and security.
5. How Will Your Gate be Powered?
Unless you choose manual gates, you will need to power your gates. You can choose to power your gates through the same power source as your home if you wish to run electric cables from your home to the end of your driveway. Alternatively, solar powered gates are an eco-friendly and financially savvy way to power your gates, and mean you won't need to worry about running electrical cables underground or being stuck on the wrong side of the gate during a power outage!
The team at Fencemakers are always on hand to talk you through the considerations for your gate or fencing project. Contact us to book a free, no-obligation quote.