Choosing the Right Gate Access for Your Home
Most of us are already aware of the added protection and privacy benefits of installing a driveway gate at your property. Not only does it add substantial resale value and a decorative touch to home's exterior, but security features for entrance gates have become so much more high-tech in recent years.  Features that were once mostly reserved for industrial and commercial buildings is now becoming common in residential areas.
Installing gates has moved up a notch with homeowners wanting something a little more – more protection, more control and better fitted to today's lifestyles. Considering the added security that gate access devices can provide homes and families, they are a relatively low-cost investment and becoming increasingly popular.
But how do you know what best fits you and your home's needs? What's overkill and what special features would improve your lifestyle? We take a look at what's on offer and the pros and cons of each.
Key
Previously, this has been one of the most common ways to secure a gate entrance. Like with your front door, a regular key is used to unlock the gate and tends to be used by homeowners who don't have a car and thus don't mind having a manual gate.
Whilst the use of a key for the front door remains (in most cases) a secure option, they are becoming far less common. Homeowners who want extra security are moving away from gate keys and upgrading to automatic access options. This also provides much greater convenience – automatic options remove the need to get out of your vehicle to open and close the gate with a key – which can be dangerous if you live on a busy road.
Pin Pad Code
Driveway gates (either swing or sliding) tend to require a pin pad code to get through. Typically, the code would be between 4-6 numbers that the homeowner can punch in to open the driveway gate.
Pin pad accesses eliminate the hassle of carrying extra keys or remote controls (as well as the possibility of these getting lost and picked up by a stranger). However, you will need to be careful the code isn't shared with people outside your family – which can happen when your kids have a party or invite friends over. It's also important to position the pin pad at an angle and level that you can access without needing to get out of your car.
Swipe Card
Most swipe cards contain a magnetic strip across the back similar to debit and credit cards. The gate access is opened when the card is swiped on another device next to the automated gate, and again it's important to position this swipe area at a level and angle where you can easily swipe from inside tour car. This type of access is commonly used in corporate buildings and hospitals.
Because it is a common security tool, it's one of the less expensive options. However the magnetic strip on the back of the card can wear out easily, so make sure you keep a record of your supplier or the manufacturer in order to source replacements. For homeowners choosing swipe cards, it's recommended to keep them separate to your bank cards and be aware they may need to be replaced often.
Remote Control
Very much like automatic garages, remote controls are fairly standard access devices for security gates. This type of gate access is extra beneficial for homeowners who live on busy streets and can't run the risk of stopping to get out of their car to open their gate or even stop to enter their pin or swipe an access card.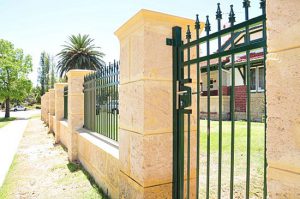 For night shift workers or families and homeowners entering the property at night, remote control access can make people feel much safer.
Although this is a super convenient option, you may find carrying around a remote control on your keyring rather clunky, and you also must make sure to check the batteries regularly to avoid getting locked out!
Intercom and Video System
One of the more complex set-ups, voice communication and video systems have become one of the popular options for homeowners that want the whole package. It's perfect for the added protection it gives, and the sense of security you feel when you're home.
An intercom can allow you to speak directly with the person that's arrived at your property to give you the option to let them in or not, whist the video system takes it up another notch so you can actually see who they are. It's become a great controlled tool for elderly, people with children or families where the husband works away a lot.
An obvious drawback for this type of access is that it's one of the more expensive ones to go with – but the benefits often far outweigh other options.
by Matthew Suter, Managing Director, Fencemakers.