Timber vs Metal Fencing: What to Consider
Although there are dozens of styles of fencing to choose from, there are just two main materials used for building them: metal and wood. When considering what is right for you, it is important to weigh in the crucial factors that will define the lifespan of your fence.
Once you educate yourself about the pros and cons, you can confidently choose the right fence for your project, knowing you have made the right long-term choice.
Timber vs Metal Fencing Round 1: Durability
Rainstorms, hail, heavy crosswinds and UV sun rays can take their toll on a fence. Wood becomes warped after the endless expanding and contracting cycles of enduring the winter moisture and intense summer heat of the Perth climate, meaning a strong bout of wind can knock a fence over. Termites also present a threat to wood, eventually breaking down planks to twig-like weakness.
Conversely, these natural elements are ineffective against steel and aluminium fencing. Aluminium is naturally rust-proof and the pre-galvanised steel used in fencing as also resistant to rust. So once a structure is up, it requires no weather-related repair.
Timber vs Metal Fencing Round 2: Maintenance
As a wooden fence breaks down from enduring the cycles of nature, repairs become necessary in order to keep the fence intact and strong for the year to come. This costs time and money, whether you do it yourself or hire someone else. Wood can be oil-treated and stained to withstand weather, but even these treatments need to be applied annually.
The right metal fence will require no such repairs or maintenance. Again aluminium is naturally durable, while steel fencing is also maintenance free provided it is made from pre-galvanised steel and bound together with fittings (screws, hinges, welds etc.) that are also non-rusting stainless steel.
Timber vs Metal Fencing Round 3: Cost
The main benefit of timber fencing is the relatively inexpensive up-front cost of materials and installation. Timber is a cheap raw material and can be very easily cut, carved and hammered together.
However, as noted above there are ongoing costs associated with timber fencing – annual treatments and maintenance costs add up over time. Timber fencing also has a shorter lifespan, so it will need to be completely replaced much sooner than metal.
Metal fencing however does tend to be more expensive up-front. But once that initial investment is made there is little to no cost for the foreseeable future as metal fencing is built to last. So, over the long run, metal fencing tends to be more cost effective.
Timber vs Metal Fencing Round 4: Security
Wooden slats that have been weakened by the elements are easy to snap, allowing easy access to burglars or predators. In fact, even well maintained timber fencing is also fairly easy to break through with a concerted effort.
In order to gain entry through a steel fence, an intruder would need to employ a grinder of some type, and the noise from which would alert everyone in the area to their presence. Additionally, steel fencing tubes can be topped with scrolls, crosses and other pointed tips, making them more difficult to scale than a wooden fence.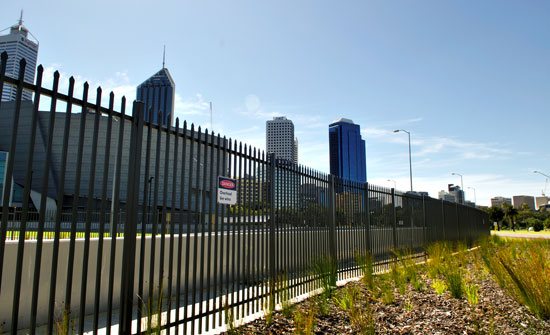 This feature also enhances the style, value and appeal of your property as a whole.
Timber vs Metal Fencing Round 5: Aesthetics
There is a definitive visual appeal to the warmth and charm of wood. Timber fences can complement the architecture, design and landscape of a traditional style property or country home very well. The 'white picket fence' is also a visual many people have then they think of their dream home.
Aluminium slat fencing on the other hand goes well with more modern architecture. The clean lines and block colours give a more contemporary aesthetic. Meanwhile ornate tubular steel fencing lends a luxurious and grand element to the property.
If you want to achieve that traditional look of the timber or picket fencing, but would prefer the other benefits of metal fencing there is another option. Smartwood fencing is made with aluminium, which can be treated in a variety of timber finishes. These treatments are not like some wood-simulated fencing products that use a printed vinyl coating. Those finishes break down over time from the sun's rays and eventually begin to peel away. Smartwood Fencing is coated with a wood grain textured powder coat finish that is bonded to the steel for a lasting finish.
Similarly you can also get aluminium white picket fencing to achieve that idealistic aesthetic, without the hassle of annual painting!
Timber vs Metal Fencing Round 6: Environmental Concerns
A fence built out of aluminium or steel is one less stretch of a forest that is cut down. Reducing carbon footprint and making environmentally conscious decisions is a modern responsibility belonging to everyone. Think about it: less wood to treat with toxic chemicals and replace with more wood over time means a positive action on your part for the world around you.