Choosing a Privacy Fence: 4 Things to Consider

Australia's cities, suburbs, and regional centres are growing rapidly. This growth is placing pressure on house and land prices resulting in smaller residential block sizes and higher density housing. Houses are being constructed closer to the street and neighbours. This trend has resulted in a growing need to create usable spaces throughout your property. Creating a safe, usable garden with the required privacy is extremely important. For this reason, more homeowners are choosing to install fences to ensure maximum privacy.
At Fencemakers, we can assist you in designing a fencing system that will not only guarantee your home's privacy, but it will add to the aesthetic appeal of your house.
In this blog we're going to take a look at the benefits of privacy fences and discuss factors you should consider when choosing one.
Privacy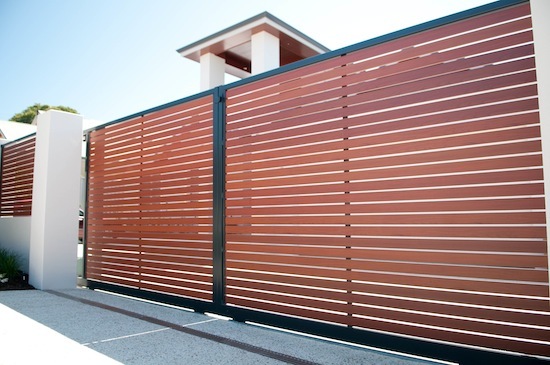 It may seem obvious, but you need to ensure the fence you choose actually provides you with privacy! It's important to note that different fences provide different levels of privacy. Wooden fences can suffice for reducing noise, however they can feature gaps between fence posts and boards.
Colorbond® steel by contrast blocks noise, and has no visual gaps, but can look ugly.
For front and infill fencing you need a fence that can maximize privacy whilst still conforming with council rules relating to visual permeability. For this reason, we would recommend the use of either a slat fence (either Smartwood or aluminium powder-coated) or privacy fencing made using Fencemakers' range of custom laser cut or perforated screens. Both fencing styles can be custom made to ensure maximum privacy is achieved whilst still complying with council requirements.
Fence height should also be considered. Two meters is generally well above eye-level, and should be sufficient for keeping out unwanted intrusions. We don't recommend fencing heights exceed 2m at a residential property, as fences exceeding this height can appear disproportionately tall and block out light.
Comfort
A privacy fence shouldn't detract from the look or feel of your home. If anything, it should complement and enhance your home. An ill-designed privacy fence may result in the following:
You feel as if you're living in a jail (Note: be careful not to make your fence too high)
Your fence clashes with the rest of your home's aesthetic qualities
Your fence stops sunlight and fresh air from entering your property
If you are unsure which fence type would best suit your property and your needs, the best option is to ask an experienced fencing contractor for advice. A fencing contractor should be able to provide guidance in choosing the appropriate height, materials and positioning of a privacy fence. Fencemakers make all fencing to meet your unique requirements and specifications, so we guarantee a privacy fencing design to suit your home, needs, and style.
Neighbours
If you're building your fence between your property and another, it's a good idea to speak with your neighbours first. In most cases there won't be an issue, they may even be excited to see a new fence that adds significantly to both properties' street appeal. In some cases though, views and access may need to be considered. Also, when building in an established community it's often more aesthetically appealing to choose a design that matches the area and is reflective of both your and your neighbours' properties. Council regulations may restrict heights and styles. Ask your fencing contractor about your council's requirements.
Plants
Plants can be terrific for improving noise insulation. They can add a natural touch in any urban environment and can also assist in obscuring the neighbouring buildings and increasing your property's privacy.
Selecting the right plants can really enhance your hard, as well as your home's kerb appeal. Architectural plants like Frangipani's, New Zealand Flax, and Cycads look amazing when paired with slat fencing. Full-foliage, bushy plants can also add to the security and privacy of your home, by providing an additional barrier and making unwanted access to your home difficult.
If you would like more information on privacy fences, please do not hesitate to contact us. We are more than happy to come out to site, discuss privacy fencing options and provide you with a free no obligation quote.